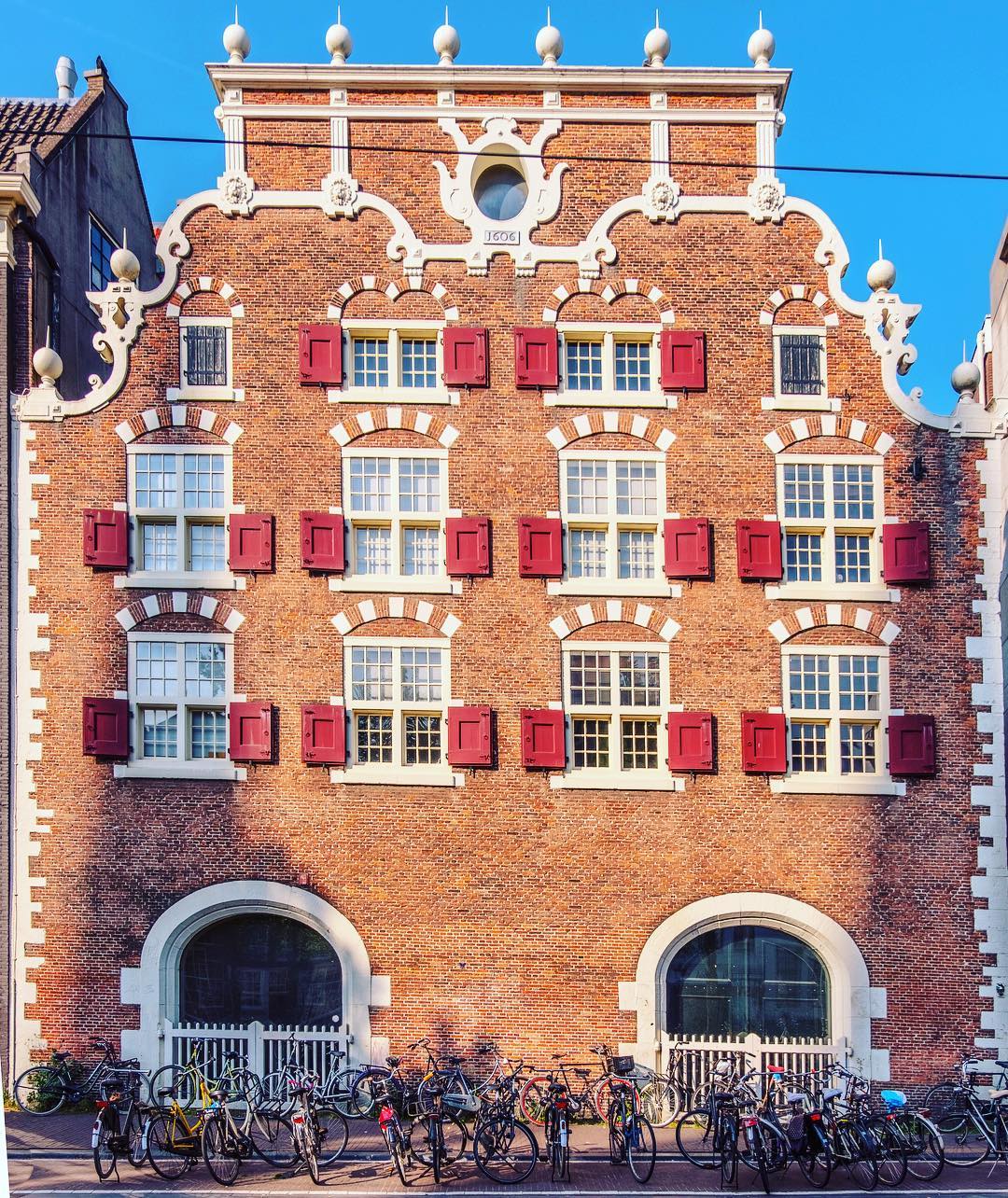 Brief History
The Bushuis is an old armoury or arsenal located at Singel 423 near Spui. It was built midway through the Eighty Years War in 1606 on the former a shooting range called Voetboogdoelen. Like many historic buildings in Amsterdam, the construction date is displayed on the front of the building. The new building was a replacement for the previous armoury on Kloveniersburgwal, which then became a base for the East Indies Company.
The Bushuis consisted of two very deep buildings with a shared facade at the front. The foundation walls which are one meter thick due. These walls help carry the enormous weight of the weapons stored there. The ground floor walls were 50cm thick.  The two high doors made it easy to move heavy cannons in and out. However, the doors don't appear that tall now because the level of the road has been raised over the years.
The gable is very decorative with rolls, lion masks & spheres and was designed by Hans Vredeman de Vries. These are not seen very often in Amsterdam. The roof space was used to store lighter weapons such as rifles, swords, and muskets.
Just before the end of the 17th century, the arsenal had another use. The upper floors served as a home for girls aged 8 to 14 who were daughters of painters. They worked there winding imported raw silks in return for food and basic education. The first floor on the Singel was a meeting room for regents and the floor above was home to the foreman.
The ground floor remained as arms storage facility until 1787, after which it was used as a stable for the horses and carriages of the cavalry and later, the royal house.
Recent Renovation
The building was renovated in 1920 by architect AA Kok and the plaster was removed from the front. The windows were reconstructed in colonial style together with shutters. Six new spheres were placed on top. The door in the middle of the house needed to remain in place because the central stairwell was still in use. The entrance disappeared around 1972 when the former armoury became part of the university library next door.
The university library had been located at Singel since 1880
Instagram filter used: Clarendon
Photo taken at: Bibliotheek Universiteit van Amsterdam