The Reguliersgracht is one of the most picturesque and tranquil locations for taking photos of Amsterdam's canals and bridges.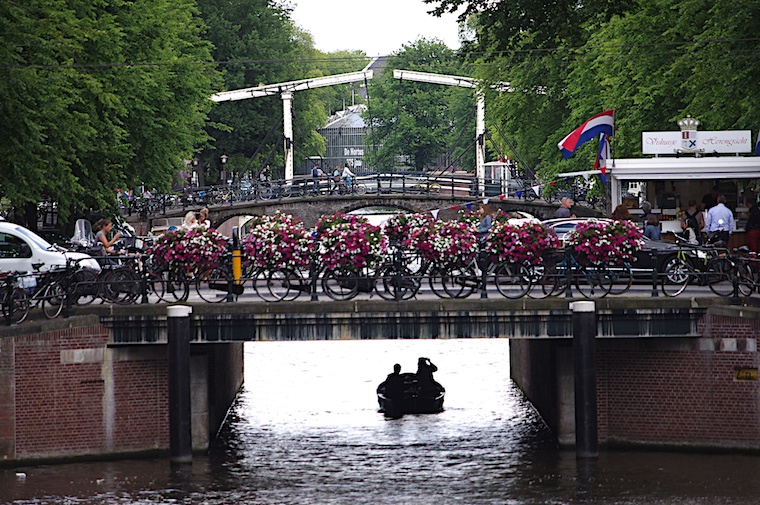 The Reguliersgracht canal passes through the Herengracht, Keizergracht & Prinsengracht canals. These intersections are great spots to admire the bridges and canal boats passing by and are particulatly beautiful at night when lit up.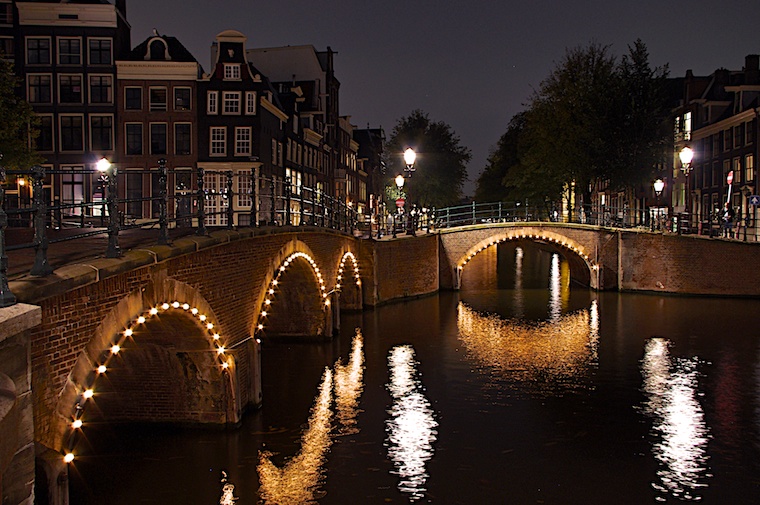 There is one bridge known as "Brug van 15 bruggen" from which you can 15 bridges in different directions. At the intersection of Reguliersgracht and Herengracht, stand on the odd-numbered side and catch the spectacular view of the 15 bridges. Night is a good time to watch the spectacle as the bridges are illuminated. If you are travelling with that special someone, this spot is a must on your itinerary as it is one of the most peaceful and romantic places in Amsterdam.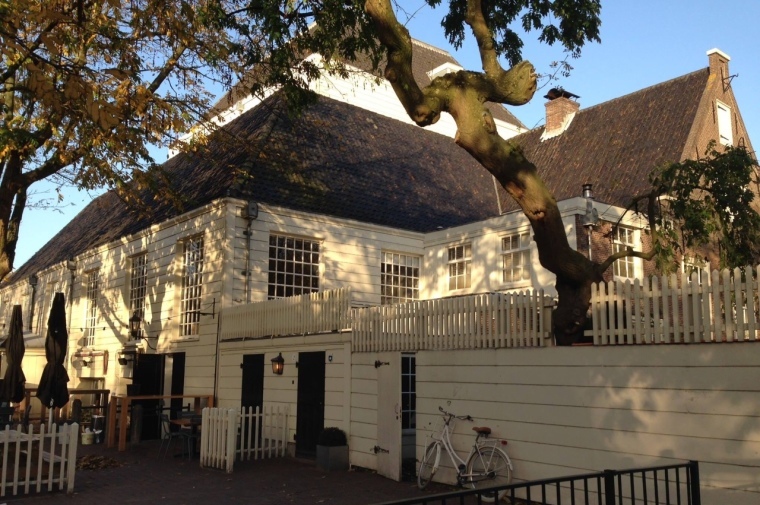 On the corner of Reguliersgracht and Prinsengracht is the Amstelveld square, location of the Amstelkerk. This wooden church was designed in 1668 and started as a preachers barn. The intention was to replace the wooden structure with a more permanent building on Botermarkt which is now Rembrandtplein. This never happened due to lack of funding. The building was recently restored in 1988 and also incorporates a cool restaurant / bar Nel. It's a great family atmosphere with a kids playground just outside.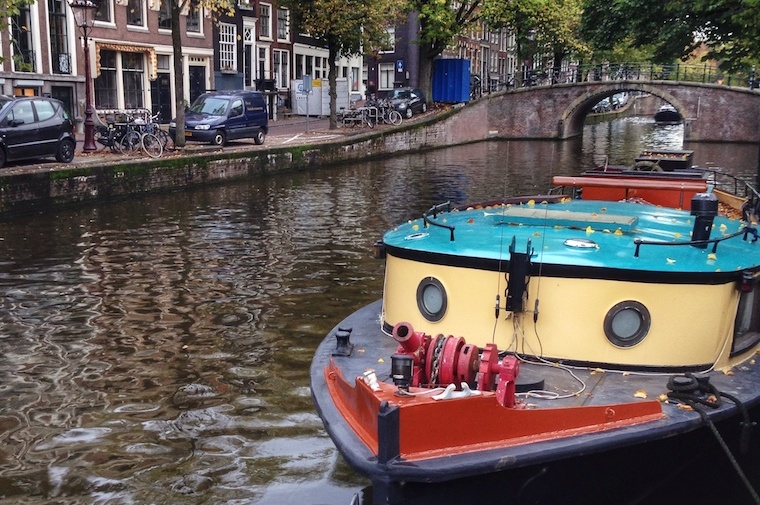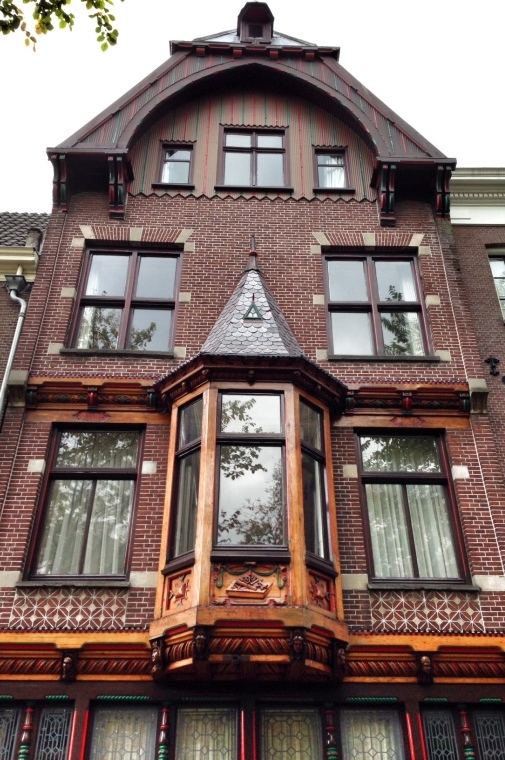 This house at Reguliersgracht 57-59 was designed by architect Isaac Gosschalk who also designed other key buildings in Amsterdam such as the Heineken Brewery. It was built around 1879 for carpenter-contractor Zeeger Deenik & Son and combines brick, stone and wood in the ornate facade.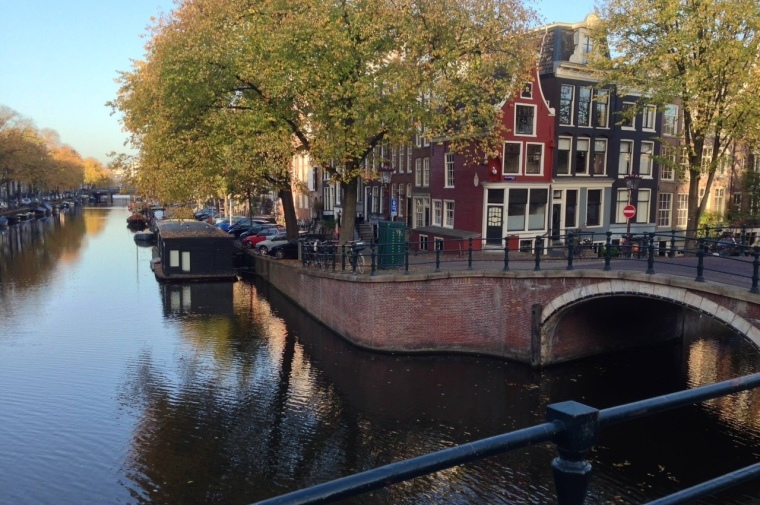 At the corner-house of Prinsengracht and Reguliersgracht there is a statue of a stork. This has been there since the 17th century when a midwife had her practice at the house.
location
As you leave Thorbeckeplein, (near Rembrandtplein) you will approach the intersection of Reguliersgracht and Herengracht.
You can see 6 arched bridges across the Reguliersgracht. Looking down the Herengracht to the left, you see another 6 bridges. To your right, two bridges are visible. The 15th bridge is the one you're standing on.
photo tips
– Night-time shots at the intersection of Reguliersgracht & Keizersgracht.
– Capture the seven bridges creating a tunnel effect either from a canal boat on Herengracht looking up Reguliersgracht or low down on the pavement above Herengracht.
– The stork at the junction of Reguliersgracht & Prinsengracht.
– Use panorama mode on camera phone to capture canal intersections.
Reguliersgracht hosts a yearly event which called the Seven Bridges Jazz Festival taking its name from the seven bridges spanning the canal. The festival takes place every September at carious venues along the canal and is free.
sights nearby